Morris Hospital Honors New Radiation Oncologist as Fire Starter of the Month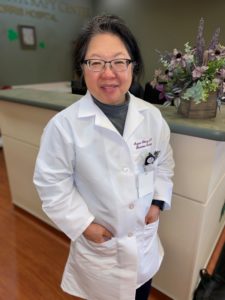 March 29, 2022 – Dr. Suzan Cheng describes herself as a small town girl who wants to make a difference one life at a time. As the new radiation oncologist at the Radiation Therapy Center of Morris Hospital, Dr. Cheng has made such a remarkable impact since her arrival five months ago that she was selected as Morris Hospital's March Fire Starter of the Month.
"From the first time I met Dr. Cheng, her presence, energy, and actions just screamed compassion," said Morris Hospital Radiation Therapist Ashley Mommosser in nominating Dr. Cheng as Fire Starter of the Month. "Just hearing her talk about her previous patients and the joy that they brought her really made her stand out as not only a physician who truly cares about her patients but as a person who cares about humanity."
When Dr. Cheng joined Morris Hospital & Healthcare Centers last fall, she had more than 31 years' experience treating cancer with radiation therapy. With a distinguished background that includes serving on the medical staff at the renowned Cleveland Clinic, she says her life's ambition has always been to bring world-class medical care closer to home.
"Radiation therapy is a very high tech medical specialty," says Dr. Cheng. "We are helping patients at a vulnerable time when they are fighting a life-threatening condition. It's important that we make patients feel welcome, known, and heard any time they need attention."
Since her first day, staff has witnessed Dr. Cheng's incredible compassion for patients on a daily basis, which likely stems from her own personnel experience after losing both of her parents to cancer. Staff say Dr. Cheng goes out of her way to help patients and that nothing is above her to lend a hand, as evident when she is seen pushing a patient in a wheelchair out to their awaiting ride home. Every patient who meets her has nothing but positive things to say since she brings so much positive energy.
Dr. Cheng has had an equally profound impact on staff, who appreciate her constant positive attitude, true team spirit, willingness to educate others, and ability to treat each patient and staff member as her equal. Whether she is teaching staff about the latest treatments, equipment, or general health information, offering ideas on ways to improve department processes, providing food treats, leading exercises or activities for staff during lunch break, or setting an example by demonstrating overall loving care, the Radiation Therapy staff believes they have become a better and stronger team since Dr. Cheng came onboard. They also say she makes the office a joyful environment to work.
"Her enthusiasm for everything Morris and Morris Hospital leaves you in awe," says Mommosser. "The community and the people in the area are going to be better off because of her knowledge and experience. She has been an amazing asset to the team and inspires each and every one of us to do the best we can for our patients."
When asked about the most rewarding part of her work, Dr. Cheng talks about being able to relieve patients' symptoms associated with their cancer diagnosis and treatment, whether physical, emotional, or psychological.
"We have to make patients feel like someone cares and give them courage to move on with their lives," she says. "We want them to experience joy and happiness for many years."
In early civilizations, fire starters were individuals who had the important job of keeping the flame alive. With over 1,400 employees, Morris Hospital & Healthcare Centers is the largest employer in Grundy County.
# # #