Morris Hospital Board Welcomes Newest Member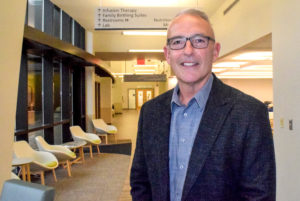 May 26, 2022, MORRIS, IL – The Board of Directors at Morris Hospital & Healthcare Centers has selected Dr. Patrick Halloran, retired superintendent of Morris Community High School, as its newest board member. Morris Hospital Board members are community representatives who serve in a volunteer capacity.
Halloran served Grundy County public education for 21 years prior to his 2018 retirement, first as a teacher, coach, assistant principal, and principal in the Coal City Unit #1 School District from 1997-2004. He came to Morris Community High School in 2004 where he served as principal from 2004-2006, assistant superintendent from 2006-2007, superintendent from 2007-2018, and interim superintendent from January-June 2019. Halloran is currently a leadership coach for four Illinois superintendents and 13 Illinois principals, an adjunct professor at Illinois State University, and an administrator academy facilitator at the Professional Development Alliance in Joliet.
According to Brian Angwin, Morris Hospital & Healthcare Centers Board Chair, Halloran has demonstrated a strong commitment to serving the community throughout his career in Education. He currently serves on the Board of Directors for the Community Foundation of Grundy County and is a cantor at Assumption of the Blessed Virgin Mary Church in Coal City. He is past president of the Kiwanis Club of Morris and a former board member of the Grundy Economic Development Council.
"Pat clearly has a passion and interest for continued service to the community," said Angwin. "Having lived and worked in the Morris Hospital service area for most of his career, he also has a sound understanding of the strengths, challenges and opportunities in our community. We look forward to having him on the Morris Hospital Board."
Halloran said serving on the Morris Hospital board will give him further opportunity to give back to a community that has been "supportive and giving" to him and his family.
"I look forward to listening, learning, and contributing to the ongoing success of one of Grundy County's most important resources," he said.
Halloran and his wife of 34 years, Dawn, have resided in Coal City for 31 years and have three adult children and one grandchild.
The Board of Directors at Morris Hospital & Healthcare Centers is made up of 11 volunteer members and is responsible for providing oversight and governance to ensure quality care and adherence to the hospital's mission, setting strategic direction for the hospital, and overseeing hospital policies and financial matters.  Also serving on the board with Halloran are: Brian Angwin, Chair; Dave Bzdill, Vice Chair; Noreen Dollinger, Secretary; Kevin Olson, Treasurer; Steven Banghart; Tami Hansen; Janis Hedenschoug; Dr. Dana Howd; Dr. Daniel Jurak; and Dr. Peter Roumeliotis.
# # #