Medication Dispensing Program Helps Avoid Dosing Errors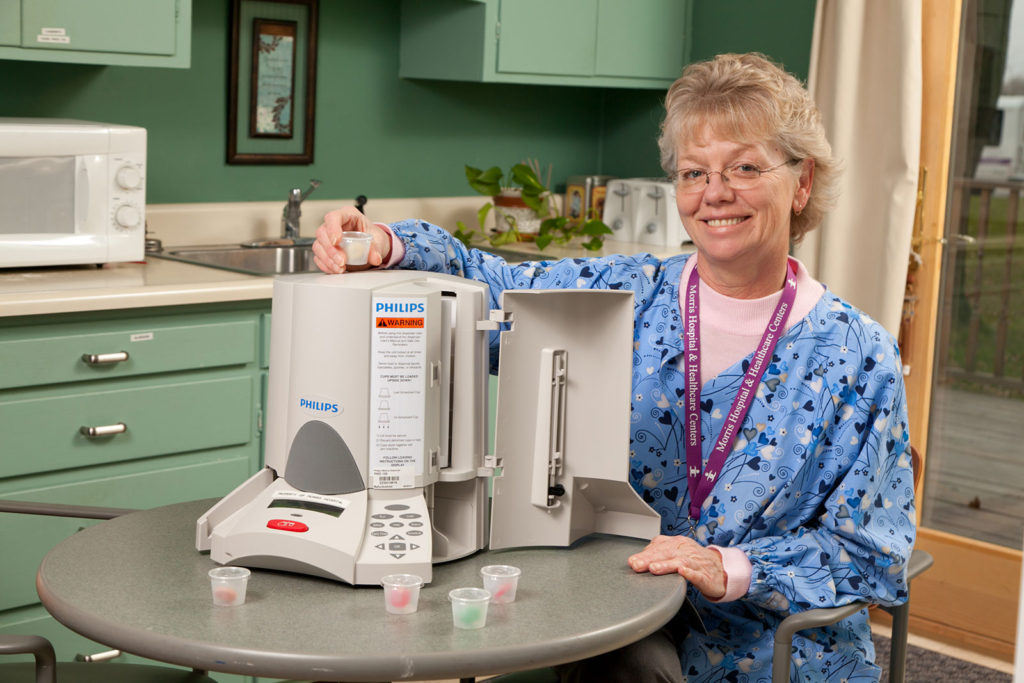 Morris Hospital offers a medication dispensing program to help with medication management.
Missing a dose, taking too much, or taking medication at the wrong time can lead to risky side effects that  could result in admission to the hospital, increased health care costs, and the need to enhance home care support.  40% of nursing home admissions are associated with medication non-adherence.
For a nominal monthly fee, subscribers to Morris Hospital's medication dispensing program receive a medication dispensing unit that can hold 60 medication cups, accommodate 40 days of medicine, and hold up to 6 doses per day.  The unit dispenses pre-loaded doses at the scheduled time with the press of a single button.  Audible reminders and visual prompts provide specific instructions, such as "take with food" and "check blood sugar levels", and a locked cabinet helps prevent inappropriate access and accidental overdoses.  The dispenser is connected to the patient's telephone line; if a medication isn't taken within 90 minutes after a reminder, a call is made to the caregiver.
"The main benefit of our dispenser program is that it allows seniors to remain safely and independently in their own homes," said Cindy Dupler, Medication Dispenser Representative at Morris Hospital.  "We can also help patients with complex medical regimens avoid errors that could lead to medical complications or unplanned hospitalizations. It reduces accidental dosing errors when no one is there to help, and it reduces anxiety for caregivers."
Dupler delivers and installs the dispenser in the home, and trains a caregiver how to operate, load, and troubleshoot the unit.  Thanks to a bequest to the Morris Hospital Foundation, funding is available to those needing financial assistance.
"The Medication Dispensing program is easy and effective, and has been proven to deliver a 98.6% in-home adherence level among monitored program subscribers," added Dupler.
For more information, please visit the Medication Dispensing webpage or contact us at:
Morris Hospital & Healthcare Centers
150 West High Street
Morris, IL 60450
Phone:  (815) 705-7251