Morris Hospital Patient Service Representative Honored as Fire Starter of the Month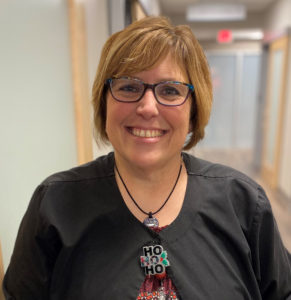 January 5, 2023, Morris, IL – When Sheri Fisk interviewed for a Patient Service Representative position with Morris Hospital in 2019, the hiring manager knew immediately that Fisk would make a great addition to the team. As it turns out, Fisk ended up far exceeding initial impressions. In recognition of the countless ways that she makes a difference for patients and staff, Fisk was selected as Morris Hospital's December 2022 Fire Starter of the Month.
When Fisk started out with Morris Hospital at the Ridge Road Campus, she already had ample healthcare experience, having worked a variety of roles at another area hospital for 27 years. She used her knowledge and experience to dive right in and made such a notable difference that it wasn't long before she transitioned to a new role that involved training new staff. During that time, Fisk found herself spending quite a bit of time at Morris Hospital's Diamond-Coal Campus, which had only been opened for a short time. A life-long resident of Diamond who lives just one block away from the facility, Fisk decided that's where she wanted to be permanently and took a position as Registration/Scheduling Representative where she has continued to shine through her interactions with patients and staff.
"Sheri is an amazing asset to Morris Hospital," said Kathy O'Neill, Practice Manager at Morris Hospital & Healthcare Centers. "She is professional and has a positive attitude with everyone she interacts with, regardless of the situation. Sheri focuses on excellent service, and the patients are her priority. She talks to them like family, makes them feel important, and makes sure things are taken care of correctly. To me, she just really exemplifies the standards of conduct."
For Fisk, everything that O'Neill describes comes easily.
"I know what it's like on the other side after going through so much with my husband and his doctors' appointments. I always found it comforting when we came across somebody nice who tried to guide us through," says Fisk. "With our patients, I look at it from the perspective that if that was my family, I would want someone to take good care of me."
"Plus, I really like to help people," Fisk adds. "A lot of patients coming in for outpatient testing are really nervous, and it feels good when I can help put them at ease. Sometimes patients turn to me because I'm a familiar face in the community."
Along with all that she does for patients, Fisk is an incredible resource for the team at the Diamond-Coal City Campus. O'Neill said that whenever she asks the staff if there's anyone they want to recognize, Fisk's name is always mentioned.
"Sheri is so down-to-earth and easy to talk to," said O'Neill. "She's the first to offer help or share her knowledge to assist her coworkers. And she does it in such a way that it makes a pleasant learning experience for her peers.
Fisk's only regret is that she wishes she made the move to Morris Hospital sooner.
"There's something about Morris Hospital that's different – it's a happy place. And the teamwork here is amazing. The people I work with who are in my same role are like sisters to me. We're a close family here."
In early civilizations, fire starters were individuals who had the important job of keeping the flame alive. With over 1,400 employees, Morris Hospital & Healthcare Centers is the largest employer in Grundy County.
# # #