Morris Hospital Honors Facilities' Jared Darling as July Fire Starter of the Month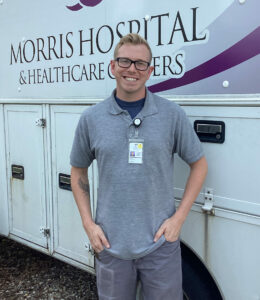 July 21, 2023, MORRIS, IL – In 2015, Jared Darling was newly out of high school and looking for a job. He heard from family members that Morris Hospital was a special place to work, so he decided to apply for an opening. Initially landing in Environmental Services, he later transferred to Facilities where he has earned a reputation for being a team player who is always willing to lend a helping hand. In appreciation for all of his hard work, Darling is being honored as the July Fire Starter of the Month.
"Jared always has a positive attitude and is happy to help everyone. He goes above and beyond what is asked of him and is always the go-to person," said Byron Gillespie, Manager of Facilities at Morris Hospital.
"His work ethic is EXCELLENT, absolutely excellent. If you give Jared a task to do, it will be done the right way every time. I am so glad that Jared was selected as the Fire Starter, because he deserves the recognition," adds Gillespie.
Darling worked in Environmental Services for 18 months before transferring to his current position as Engineering Tech 1 in Facilities where he has been for the past six years. In his current role, he works with multiple departments every day including both clinical and support service departments.
Darling's strong work ethic is what keeps him motivated to do things the right way, no matter what he is doing. He says that he enjoys his role because each day is a new adventure. And with over 30 facilities to maintain in a continusly growing organization, he never gets bored.
Having a great relationship with his co-workers is one of the best parts of Darling's job. In fact, his colleagues felt so strongly about his nomination, his form was signed by the entire Supply Chain department, as well as other co-workers who wanted to see him get recognized for his hard work.
Darling says that the recognition for his contributions means a lot to him. "Being in a role that is behind the scenes in a hospital, it feels so good to be recognized for what I do. It is so cool that I was chosen."
In early civilizations, fire starters were individuals who had the important job of keeping the flame alive. With over 1,400 employees, Morris Hospital & Healthcare Centers is the largest employer in Grundy County.
# # #