Morris Hospital Honors 2 South RN as Fire Starter of the Month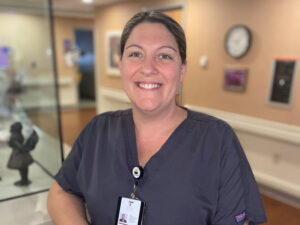 May 30, 2023 — The first time Jennifer Terry was named Fire Starter of the Month at Morris Hospital was August 2016. She had just made the transition to Registered Nurse from Imaging Services department secretary where she was recognized for her incredible work ethic, positive outlook and attitude that inspired those around her.
Seven years later, the Channahon resident has once again received Morris Hospital's top employee recognition, this time for her compassion and skills as a nurse, superb leadership, and for the overall impact she makes for her team on 2 South and throughout the organization.
Terry started out at Morris Hospital 21 years ago as a transporter and realized how much she enjoys taking care of people. That's what prompted her to change roles to the Imaging department's secretary where she was the first person outpatients encountered when they arrived in the department for testing. She started working on her RN degree at Joliet Junior College and graduated in May 2016. In 2021, she completed her Bachelor's degree in Nursing.
As an RN, Terry is exceptional, always putting patients first.
"All of Jenn's actions revolve around the patient," said Kathy Rombach, Manager of 2 South and House Supervisors at Morris Hospital & Healthcare Centers. "She'll stay late to make sure the patients are taken care of. During care conferences, she is always a good liaison between the physicians and staff. She's the type of nurse you would want taking care of your patients."
Terry is also an outstanding team member and mentor on her unit.
"As a seasoned medical surgical RN, Jenn is a go-to for precepting new nurses," said Rombach. "She is such a good resource, new nurses tend to migrate to her with their questions. She's just a really good resource to have on the floor all around. You can tell she has deep ties with other departments and works well with everyone throughout the organization."
It's no surprise that Terry has a reputation for being an excellent Charge RN on her unit, a role she has been serving for about two years.
"Jenn has the respect of the staff and leads by example," said Rombach. "When she's charge, she makes sure the team is in a good spot before she leaves for the day or that they're all getting ready to leave as well. She also makes sure the oncoming charge has the tools needed for the next shift. She's got those strong characteristics. You see it whether she's doing charge or patient care."
As for Terry, she really enjoys being the type of person new nurses are comfortable coming to with questions, and she encourages them to ask. She also enjoys the responsibility that comes with being charge and her interactions with patients and their families.
Most of all, she is inspired when she knows she made a difference for someone, as she recalls a time she had to perform CPR on a patient who then got intubated.
"I was off for the next few days, and when I came back to work, I went to the patient's room and he was doing great," Terry said. "The family remembered me, and I told them I was so glad he was doing well."
"We don't always get to see the great outcomes, but being able to see him a few days later and know that I helped him was very rewarding and a good reminder about the important work we do."
In early civilizations, fire starters were individuals who had the important job of keeping the flame alive. With over 1,400 employees, Morris Hospital & Healthcare Centers is the largest employer in Grundy County.
# # #