The first annual employee charity softball tournament is a wrap! It was a perfect day filled with fun and great team spirit. Thank you to ALL who volunteered, played, and supported this event. A very special kudos to Sean Cleveland (Pharmacy) and the incredible team of volunteers who helped plan and organize a fantastic event!
Congrats to tournament champs, the VIPs! (Cath Lab, ICU and Pulmonology – pictured below)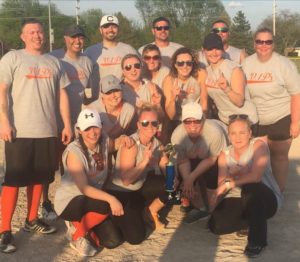 Second Place went to Here Come the Runs (Rehab Services).
Another very special congrats goes to our fundraising champs, The Pill Crushers (Pharmacy)! The Pill Crushers raised $454 and the South Side Slammers (2 South) came in second with $450!