Morris Hospital's neurology practice adds neurologist, prepares to move Morris office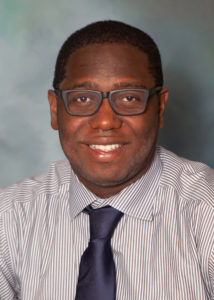 July 29, 2020, MORRIS, IL – A neurologist who specializes in sports neurology, concussion, headaches and traumatic brain injuries has joined the Morris Hospital Neurology Specialists.
Samuel Quaynor, M.D., Ph.D., is teaming up with Isaac Mezo, M.D., and Stefanie Henline, N.P., to care for patients at the Morris Hospital Neurology Specialists' offices in Channahon and Morris.
As a neurologist, Dr. Quaynor specializes in the diagnosis and treatment of disorders that affect the brain, spinal cord and nerves, including stroke, headaches, seizures, speech and language disorders, infections of the brain and peripheral nervous system, movement disorders such as Parkinson's disease, sleep disorders, dementia disorders such as Alzheimer's, and multiple sclerosis.
"The opportunity to join a strong team with a broad range of specialty knowledge is unique and exciting," Dr. Quaynor says. "I am passionate about providing patients with excellent, compassionate care. I strive to listen and work with patients to ensure they feel involved in their care and understand their treatment plan."
Dr. Quaynor is fellowship trained, having studied sports neurology, headache and concussion at LifeBridge Health Sports Medicine Institute in Baltimore. During his fellowship, he worked with physicians from different professional and collegiate athletic teams in the Baltimore area, including the Baltimore Ravens. He previously completed a three-year neurology residency at the University of Chicago Medical Center in Chicago. He earned a medical degree and Ph.D. in Molecular Medicine and Genetics at the Medical College of Georgia in Augusta, Ga., and he completed an internship at Weiss Memorial Hospital in Chicago. He is a member of the American Academy of Neurology, International Congress for Athlete Brain Health and the American Society for Sports Neurology.
Growing up in Ghana, Dr. Quaynor has had a fascination with the brain since studying neuroscience at the University of Virginia. His relationship with neurology became more personal when his father passed away due to complications from stroke.
"My experience with my father led to me focusing on neurology as a specialty," says Dr. Quaynor. "I have experienced the personal side of supporting someone with a loss of function caused by neurological disorders."
Dr. Quaynor believes the most effective care involves listening to patient needs and applying evidence-based medicine to improve patient health. He is skilled in non-invasive procedures and is focused on keeping up with the latest advances in neurological treatments.
"As a doctor, I am a very good listener," Dr. Quaynor says. "Neurological conditions are very intricate and require a systematic approach to diagnosis and treatments. I enjoy putting pieces of information together from my patients to help diagnose any problems and design treatment plans."
Dr. Quaynor and his wife, Laura, have four children.
Effective Aug. 10, the Neurology Specialists office in Morris will relocate to 1802 N. Division St., Suite 703, and the Channahon office is located at the Channahon Healthcare Center of Morris Hospital, 25259 Reed St., Channahon. To schedule an appointment with Dr. Quaynor, Dr. Mezo or Stefanie Henline, call 815-942-4506 (Morris) or 815-467-0555 (Channahon). For more information about the Morris Hospital Neurology Specialists, go to morrishospital.org/neurology.