Morris Hospital Resumes Phase 2 Renovations on Main Campus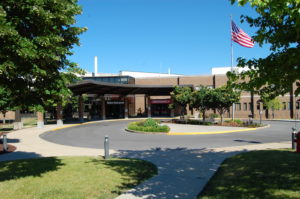 July 6, 2020, MORRIS, IL – Before the end of this year, Morris Hospital expects to have a new cardiac diagnostics department and a new patient prep/recovery area for its cath lab as part of Phase 2 renovations on the hospital main campus.
The renovations are taking place in the space that was formerly occupied by the emergency department. A brand new emergency department opened on the east wing of the hospital's first floor on March 5.
The renovations are part of a four phase, $33.5 million modernization project involving renovation of over 56,000 square feet of existing space and construction of 4,300 square feet of new space on the hospital main campus. The project was approved by the Illinois Health Facilities and Services Review Board in December 2018. Along with the new emergency department, the first phase included a new infusion therapy center, women's imaging center, and outpatient laboratory, along with renovations to the main lobby, all which were completed earlier this year.
The new cardiac diagnostics department that is part of Phase 2 will provide improved space for patients undergoing EKGs, echocardiograms, stress tests, cardioversions, and other cardiac diagnostic services, as well as electroencephalogram (EEG) and electromyography (EMG) neurology testing. The cath lab will also get an improved preparation/recovery area for patients before and after interventional cardiovascular and radiology procedures including angioplasty, stents, pacemakers, and defibrillators. Renovations to the imaging services department, which began in Phase 1, will also get completed during Phase 2 renovations.
While Phase 2 renovations began in early March with the demolition of the former emergency department, the project was paused a few weeks later out of safety concerns related to the COVID pandemic. Construction resumed June 1 with a safety plan in place that requires construction workers to wear masks and maintain 6 feet of physical distance whenever possible. Construction workers are screened daily for signs of illness and are restricted to the construction zone, which is isolated from the rest of the hospital and has a dedicated construction entrance/exit.
In late April, Morris Hospital announced that it was implementing a financial recovery plan in response to decreased patient volumes resulting from the COVID-19 pandemic. Morris Hospital President & CEO Mark Steadham said that the main campus renovations are funded through bond financing rather than routine operations.
"In this particular case, the dollars that have been earmarked for facility improvements through bond financing cannot be used for other purposes such as operations or labor costs," explains Steadham. "After reviewing various options, the Hospital Board concluded that it was appropriate to move forward with turning the now vacated and demolished former emergency department into clinical space that was intended for patient services."
Adds Steadham, "One year ago when we started construction of our new emergency department, we said that there would be visible signs of construction on the main campus for a two-year period as we enhance the services provided for the community by modernizing the hospital."
"We are grateful that our new emergency department opened when it did. Having all private emergency treatment rooms and an updated air handling system have been very beneficial enhancements that have contributed to safe patient care during the pandemic. As we resume these important renovations that have been planned for some time now, we ask for the community's continued support and patience."
Serving patients at 25 locations, Morris Hospital & Healthcare Centers includes the 89-bed Morris Hospital, as well as physician offices in Braidwood, Channahon, Coal City, Dwight, Gardner, Marseilles, Mazon, Minooka, Morris, Newark, Ottawa, Seneca, and Yorkville. Through the services of over 1,700 healthcare professionals, physicians and volunteers, Morris Hospital provides lifesaving cardiac intervention with angioplasty and stents, a radiation therapy center for cancer patients, state-of-the-art intensive care unit, sleep center, and walk-in care at four locations. Morris Hospital is a Level II trauma center, Level II perinatal care provider, and primary stroke center. The hospital is known for its compassionate and personalized approach to healthcare and has been named to Becker's Hospital Review's 100 Great Community Hospitals list four years in a row.
# # #