Morris Hospital Achieves 5-Star Rating from CMS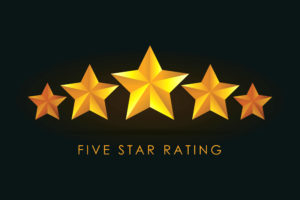 May 5, 2021, MORRIS, IL – Morris Hospital has received a Five-Star overall hospital quality rating from the Centers for Medicare & Medicaid Services (CMS), the highest rating a hospital can achieve. Just 13% of the 3,355 hospitals in the country have a Five-Star overall rating on the Care Compare website that was updated by CMS on April 28.
"This is the first time Morris Hospital has received a Five-Star overall rating from CMS, so this is a tremendous celebration," said Kim Landers, Vice President of Patient Care Services and Chief Nurse Executive at Morris Hospital. "Since the CMS overall star rating began five years ago, it has been our goal to achieve a Five-Star rating. And here we are, thanks to our incredible team's commitment to patient experience and our many quality initiatives, including reducing hospital-acquired conditions and readmissions."
CMS's star rating system, which began in July 2016, is updated annually. For 2021, the overall rating is based on 48 quality measurements in five different categories and shows how well each hospital performs compared to other hospitals. Morris Hospital met or exceeded the national benchmark in all five categories, which include: patient experience, timely and effective care, readmission, safety of care, and mortality.
According to CMS, the purpose of the Overall Hospital Quality Star Rating is to summarize quality measure information reported on the Care Compare website in a way that is accessible and easy to understand for patients and consumers.  Each hospital has a star rating that ranges from one to five stars, with five stars signifying highest quality. Anyone can go to medicare.gov/care-compare and search for a specific hospital by name, zip code or town/state and then compare quality and patient perception ratings of up to three hospitals at a time.
"We couldn't be prouder to be part of one of the nation's elite five-star hospitals," said Landers.
Nationwide, 455 hospitals received a five-star rating from CMS, 988 received four-stars, 1,018 received three-stars, 690 received two-stars, and 204 received one-star.
In addition to the Five-Star overall hospital quality rating on Care Compare, last week Morris Hospital received its sixth consecutive A on the Leapfrog Hospital Safety Grade that was released on April 29, a national distinction that recognizes a hospital's achievements in protecting patients from harm and provider safer health care.