Laboratory Supervisor Recognized as Fire Starter of the Month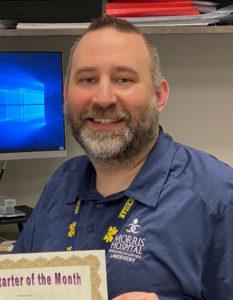 February 22, 2021 – When Michael Plochocki joined the Morris Hospital Laboratory on the midnight shift in the fall of 2009, he was a brand new Medical Technologist who had just completed his clinical training. As it turns out, the opportunity was a perfect fit for Plochocki and for Morris Hospital. Today as a Laboratory Supervisor, Plochocki is viewed as a rising star who continually demonstrates competency and commitment in everything he does. He was selected as Morris Hospital's Fire Starter of the Month for January 2021.
A native of the LaSalle/Peru area now residing in Chicago, Plochocki has become an integral part of the Morris Hospital Laboratory over the past 11 years. In addition to his Supervisor role, he takes on extra projects and assists the Laboratory staff whenever needed.
Described as a true leader and a "calming force" in every situation, he was singled out during a recent accreditation survey by the College of American Pathologists, noted for his perfect record keeping and procedures. He is also recognized for his commitment to ensuring that standards are followed and that Laboratory testing is accurate and efficient.
"Michael is very flexible and moves between his supervisory role to reporting out results with great ease," says Kimberly Wolfer, Laboratory Director at Morris Hospital. "He is willing to do whatever needs to get done to get the lab results out, whether it's working over, changing his shift, or re-prioritizing his day. Morris Hospital is fortunate to have such a talented leader who developed here and is one of our own."
While Plochocki is driven by the Laboratory's contribution to patient diagnoses, today as supervisor, he truly finds his interactions with his colleagues most rewarding.
"I enjoy being able to help others and teach them," says Plochocki. "It's very rewarding to see new laboratory technologists progress. It makes me feel proud that I had a part in helping them succeed in their career."
In early civilizations, fire starters were individuals who had the important job of keeping the flame alive. With over 1,400 employees, Morris Hospital & Healthcare Centers is the largest employer in Grundy County.
# # #